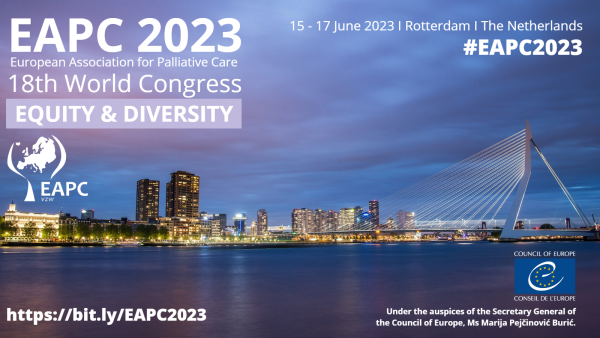 EAPC 18th World Congress
Every year MyPath partner EAPC (European Association for Palliative Care) organises a palliative care congress for its members and the wider global palliative care network and community. This alternates between the World Congress and the World Research Congress.​ This year, it is time for the 18th EAPC World Congress. On Thursday 15th June to Saturday 17th June 2023, the congress will feature presentations and workshops by speakers from over twenty countries globally including Portugal, Hungary, Jordan, Senegal, Australia, Japan, Canada, USA, India, Singapore and Uganda – truly showcasing palliative care from around the world.
MyPath will also be represented: Dr. Amaia Urrizola (Oslo University Hospital) will present the project during a special session on EU-funded research projects on Friday, 16 June, from 12:45 – 13:15 CEST. Find the full programme here.