Last week, the 12th edition of the yearly International Seminar of the European Palliative Care Research Centre (PRC) took place in Aarhus, Denmark. The important event brought together 150 clinicians, researchers, and others with an interest in the field of palliative care. The MyPath project was well-represented at the seminar: six partners participated, and MyPath was presented both in the main session and as a poster presentation.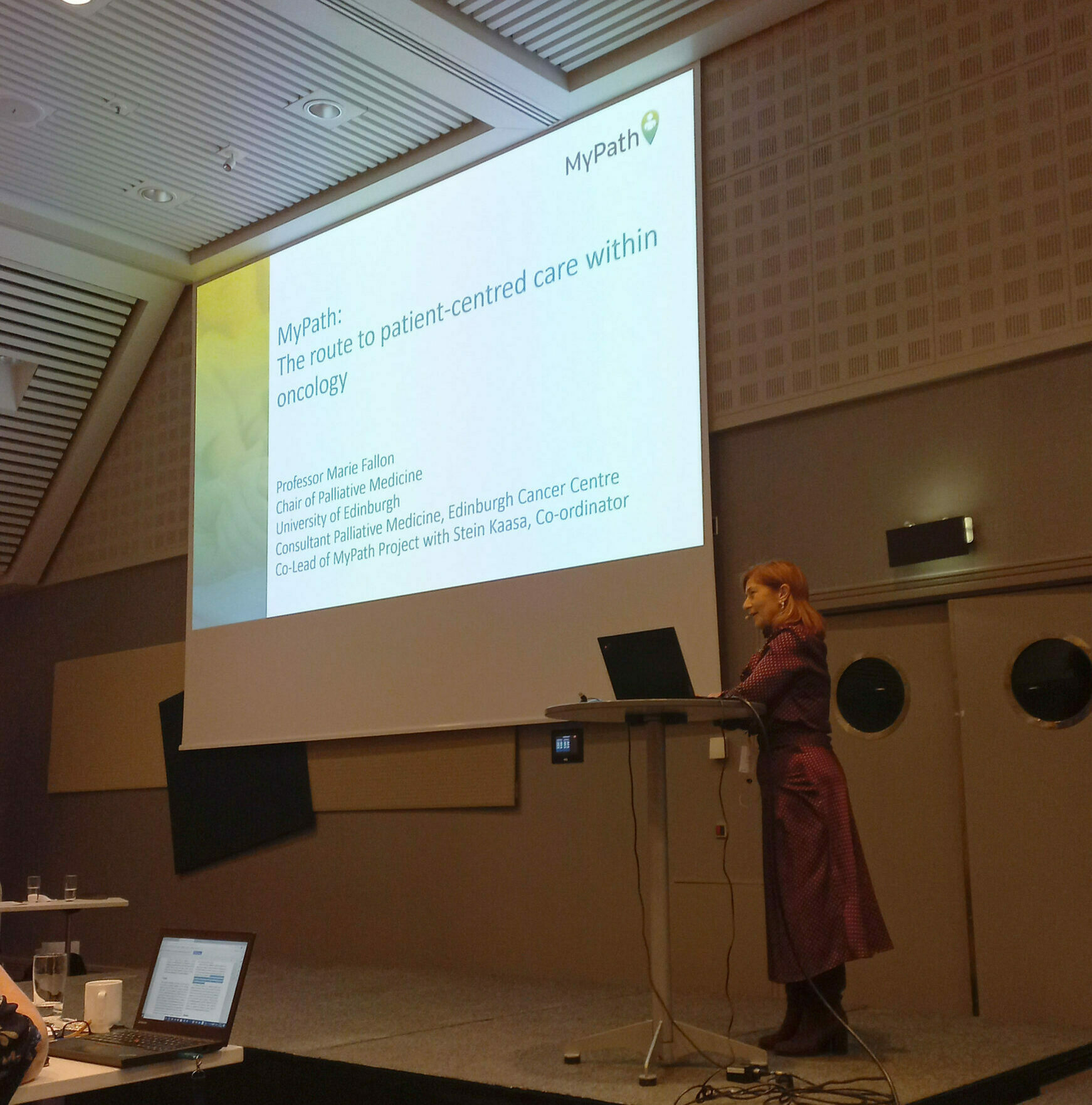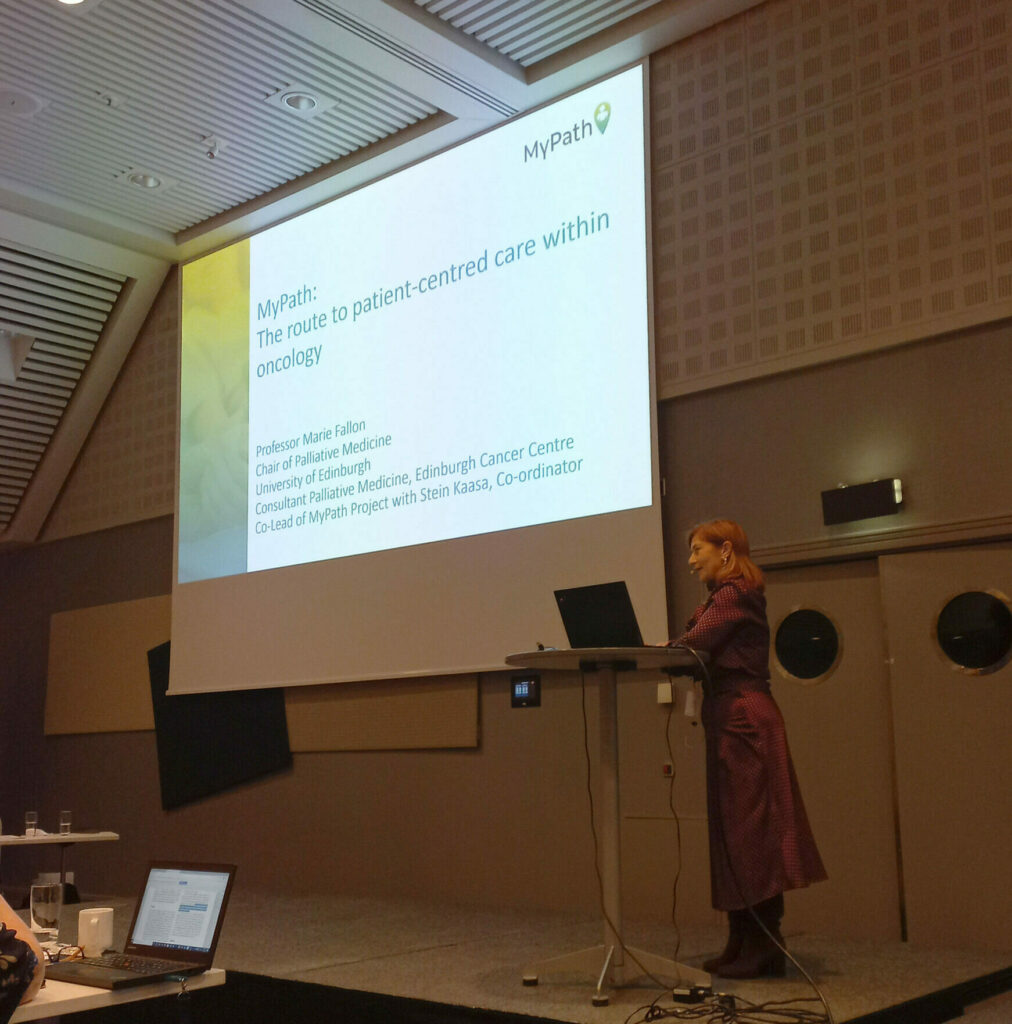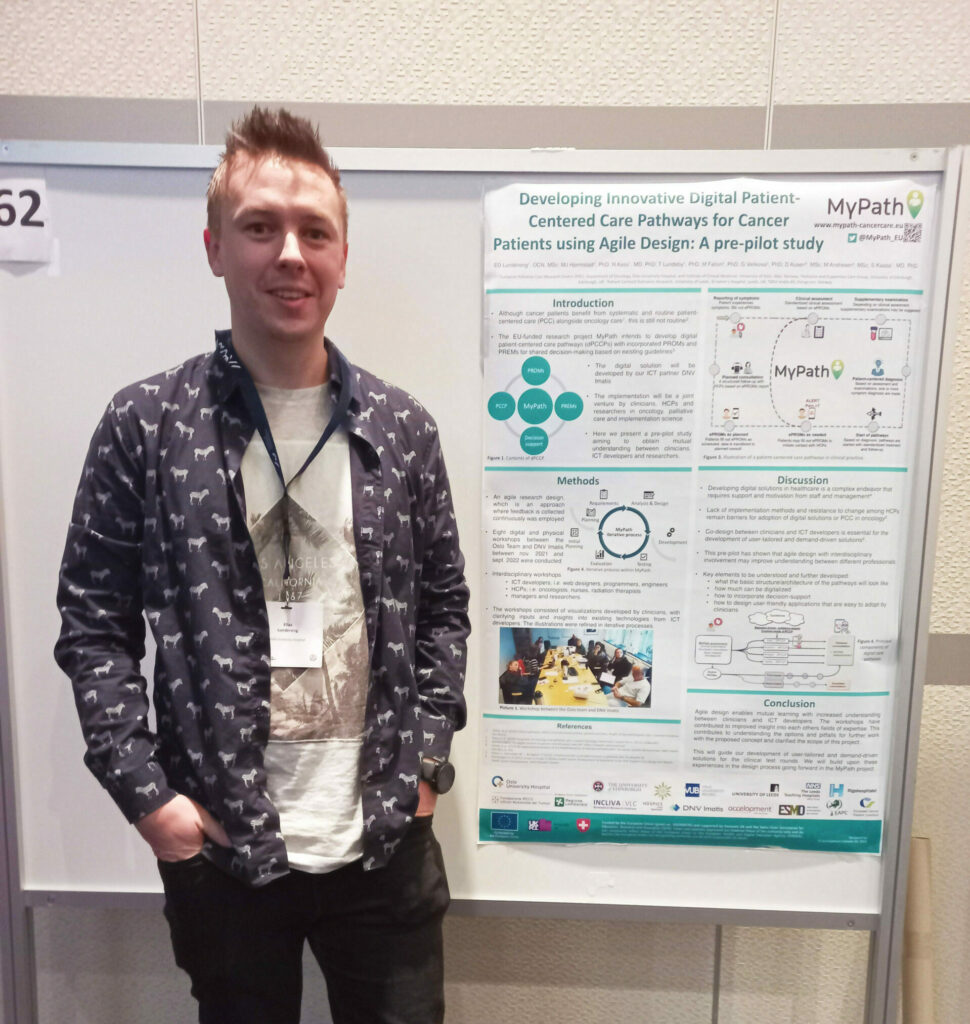 As part of the thematic session 'Collaboration – the key to progress', a MyPath project overview was presented by MyPath's co-lead Prof. Marie Fallon, chair of Palliative Medicine at the University of Edinburgh. Prof. Fallon emphasised the need for a solution to bridge the notorious gap between evidence coming from research and clinical practice. A well-defined implementation strategy is a crucial part of such a solution. In MyPath, the local contexts and cultures will be central to the implementation study, since — as aptly quoted by Prof. Fallon — "culture eats strategy for breakfast".  
During the poster sessions, Elias David Lundereng, oncology nurse at the Oslo University Hospital, presented MyPath and a pre-pilot study in which a research design methodology was tested. It involves an iterative, feedback-centred working process between healthcare providers and ICT developers, who are working closely together to develop the digital MyPath solution. So far, the results have been promising, and they will guide the further design and development of MyPath.
Prof. Luc Deliens granted G. W. Hanks award for palliative care
Prof. Luc Deliens from MyPath partner Vrije Universiteit Brussel received the G. W. Hanks award for his valuable contribution to palliative care research. This award is in memory of Professor Geoffrey Warren Hanks – the first professor in palliative medicine in Europe.
Prof. Deliens is an outstanding researcher and teacher in palliative care from Brussels, Belgium. He has published more than 540 articles, with an H-index of 62. Holding degrees in sociology and human ecology, he is the founding director of the End-of-Life-Care Research Group. Deliens is also the chair of EAPC's reference group on Public Health and Palliative Care and co-chair of the EAPC research network. He has successfully led and contributed to several EU collaborations for research in palliative care. In addition, Deliens has inspired and still inspires many young researchers, offering them opportunities and a platform for a career in palliative care research.
As part of the award ceremony, Prof. Deliens held an honorary lecture on how to create more capacity for palliative care and palliative care research in society. An important observation he made was that when society started medicalising palliative care, it also took away the responsibility from communities. End-of-life care, however, is also a civic responsibility. Death and loss, as Deliens views it, are very much social events with a medical component rather than primarily medical events with a social component. He therefore strongly promotes a more comprehensive approach to palliative care, where the clinical approach and the health services approach are complemented by a public health approach. Additional barriers to increasing the societal capacity for palliative care, such as poor knowledge transfer and a lack of research on implementation under real-life conditions, must be addressed: by a stronger focus on implementation science research and developing effective dissemination strategies.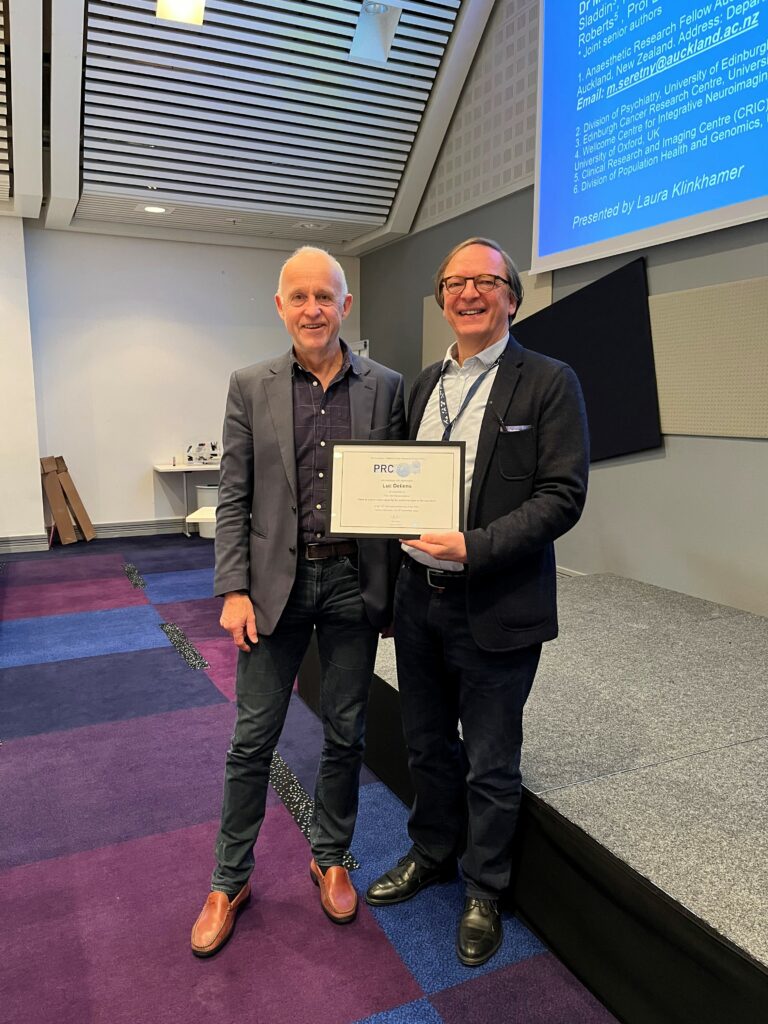 EU funding for palliative care research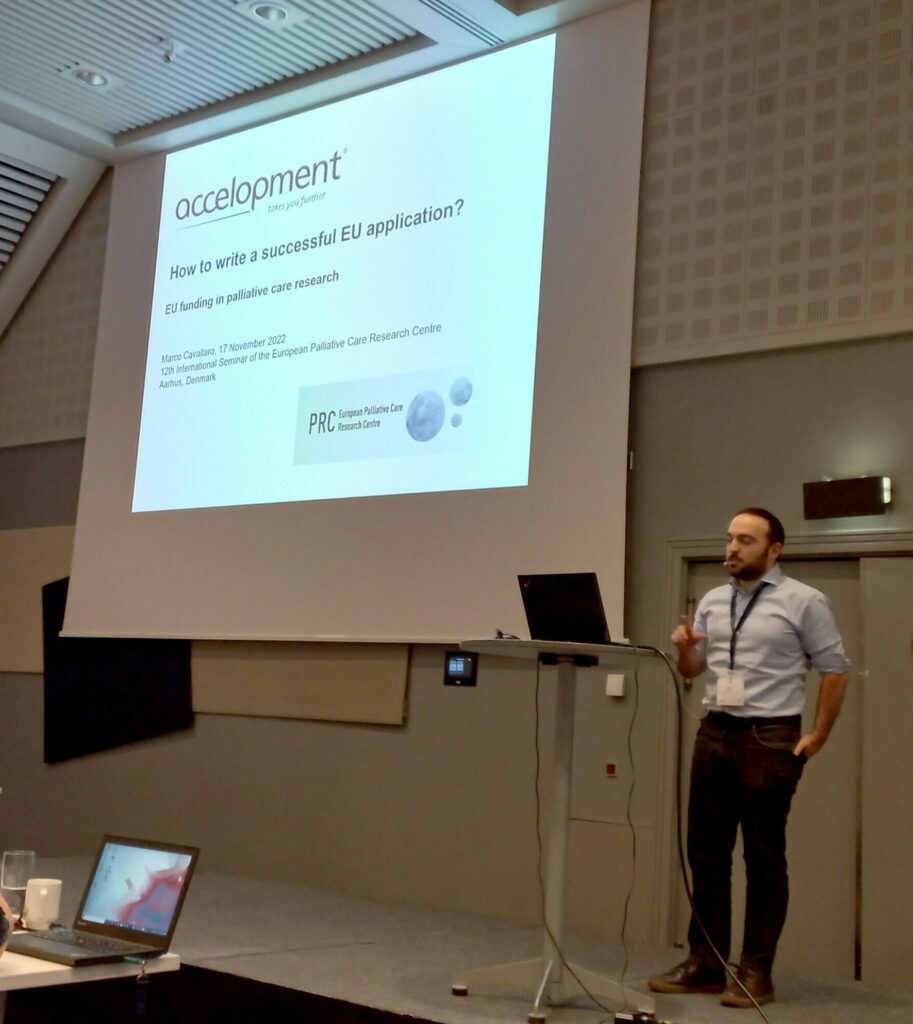 One of MyPath's partners, accelopment Schweiz AG, specialising in EU funding advice, proposal preparation, and other project support, was also invited to speak at the seminar. Marco Cavallaro delivered a presentation titled How to write a successful EU application: EU funding in palliative care research, during which he provided an overview of EU grants and funding opportunities with a focus on those most relevant to the PRC seminar's participants. He also talked about success factors and what to pay special attention to when applying for funding.
For both palliative care research and MyPath, it is safe to conclude that the 12th PRC seminar in Aarhus was a great success.
For the MyPath consortium, it has been a good opportunity to meet partners in person again, exchange ideas with old and new connections, and raise awareness of the project.